Unleashing the Power of Surveillance: HIKVISION DS-96128NI-M16/R 128-ch 3U 4K NVR.In today's interconnected world, security is paramount, and advanced video surveillance solutions are at the forefront of ensuring safety and protection. HIKVISION, a globally recognized leader in security technology, introduces the game-changing DS-96128NI-M16/R 128-ch 3U 4K NVR. With its cutting-edge features and unrivaled performance, this NVR sets a new benchmark for video surveillance systems.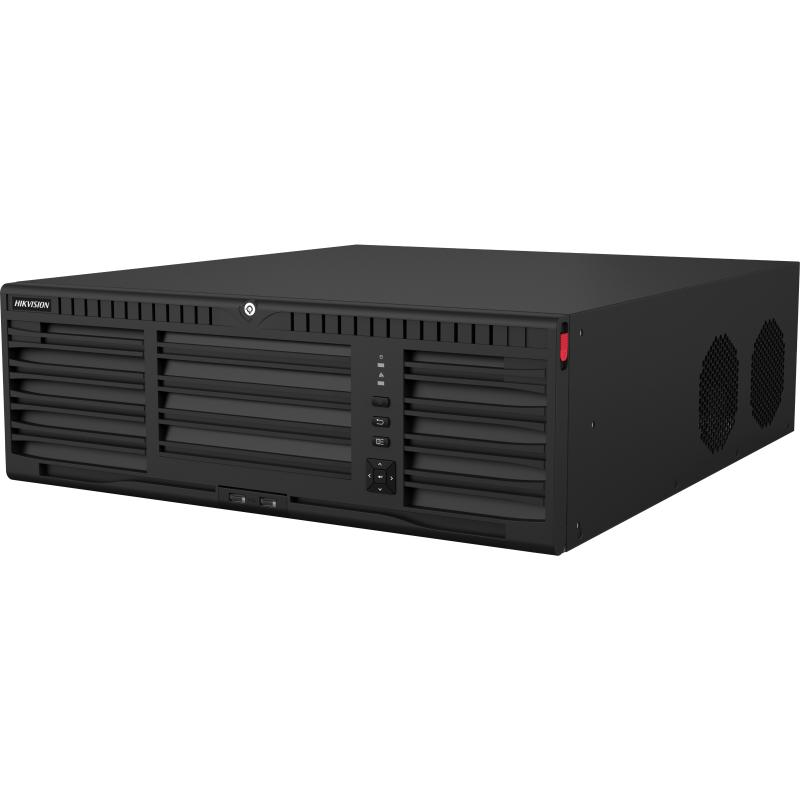 Unparalleled Connectivity and Decoding Capacity
The HIKVISION DS-96128NI-M16/R NVR boasts remarkable connectivity, supporting up to 128 IP camera inputs. With flexible decoding options, it delivers exceptional performance, allowing for simultaneous decoding of up to 2 channels at 32 MP, 2 channels at 24 MP, 4 channels at 12 MP, 8 channels at 8 MP, 16 channels at 4 MP, or 32 channels at 1080p. This outstanding decoding capacity ensures the highest level of detail and clarity in video playback.
Seamless Video Streaming and Enhanced Bandwidth
Experience flawless video streaming even in challenging network conditions, thanks to the advanced streaming technology integrated into the HIKVISION DS-96128NI-M16/R. This innovative feature guarantees smooth live views, enabling users to monitor their premises without interruptions. Additionally, the NVR offers an impressive incoming bandwidth of up to 400 Mbps and an outgoing bandwidth of 400 Mbps, ensuring efficient data transmission.
Crystal Clear Video Outputs
The DS-96128NI-M16/R NVR takes video output to the next level with its 2 HDMI (different source) and 2 VGA (different source) interfaces. Users can enjoy breathtaking video playback with support for 8K or dual 4K video outputs. Whether it's monitoring a large-scale facility or a critical area, the NVR provides exceptional clarity and detail, enhancing situational awareness for better decision-making.
Specialized Cameras for Enhanced Surveillance
For comprehensive surveillance needs, the DS-96128NI-M16/R NVR is compatible with specialized cameras, including people counting cameras, ANPR (automatic number plate recognition) cameras, and fisheye cameras. These cameras provide valuable insights and extended coverage, empowering businesses to optimize their operations and enhance security.
Robust Data Protection and Storage
Protecting critical video data is of utmost importance. The HIKVISION DS-96128NI-M16/R NVR ensures data integrity and security with its support for RAID 0, 1, 5, 6, 10, and N+M hot spare configurations. This redundancy minimizes the risk of data loss, providing peace of mind for businesses and organizations. Furthermore, the NVR's redundant power supply ensures uninterrupted operation, even in the event of power failures.
HIKD: Your Trusted Partner in HIKVISION Solutions
HIKD stands as a trusted partner in delivering HIKVISION's cutting-edge video surveillance solutions. As a prominent distributor of HIKVISION products, HIKD plays a crucial role in ensuring businesses have access to top-tier security technology. With their expertise and commitment to customer satisfaction, HIKD provides tailored solutions that cater to specific security requirements. Their collaboration with HIKVISION reinforces their dedication to delivering innovative and reliable surveillance solutions.
Embrace the Future of Surveillance with HIKVISION DS-96128NI-M16/R NVR
The HIKVISION DS-96128NI-M16/R 128-ch 3U 4K NVR revolutionizes the way we perceive video surveillance. Its advanced features, exceptional decoding capacity, and seamless streaming technology set it apart from traditional NVRs. With HIKVISION's trusted partnership with HIKD, businesses can confidently embrace this cutting-edge solution and unlock the full potential of their security systems.
For more information about HIKVISION DS-96128NI-M16/R NVR and other HIKVISION solutions, contact HIKD today. Visit our website at [insert website link] or email us at sales@hikdistribution.com. Experience the future of surveillance with HIKVISION and HIKD, your partners in security excellence.